DTOC Donates To Meridian High School Boys Basketball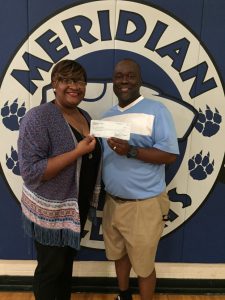 Coach Ron Norman, Meridian High School Boys Basketball Head Basketball Coach was our guest speaker on Tuesday, March 28th 2017. Coach Norman and his Wildcats were fresh off their recent 6A State Championship at the Jackson Coliseum just two weeks prior.
Coach Norman still filled with excitement, let us in on the success of his first year as Head Coach at Meridian High School. He also spoke on the accomplishments of his team both in academics and athletics. Norman plans to make sure his players remain positive youth role models in the community, maintain high grade point averages, and continue to dominate on the court.
The Downtown Optimist Club and the entire community of Meridian and surrounding areas were every excited about the accomplishments of the 2016-2017 Wildcat Basketball team. The DTOC was delighted to present Coach Norman with a $500.00 check to help support their 2017 Athletic Awards Banquet where these Champions will be recognized for their achievments.